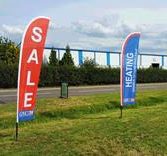 The most prolific graphic displayed in Northland is a Ground Flag Banner. A permit is required before display.
Did you know ALL exterior advertising and graphic displays in the City of Columbus (Northland included) requires a permit be obtained from the City of Columbus before the advertising is displayed ?
Yes, You MUST obtain a Miscellaneous Graphics Permit Application form (available online) per CoC section 3375.11B, fill it out completely, submit it downtown to the Building Department for review and approval, pay a fee, and retain the permit for verification by Code Enforcement. Please allow 20 business days for the entire process. Failing to obtain a permit will subject the business to a Code Enforcement Citation – not recommended.